Our Cultural Connection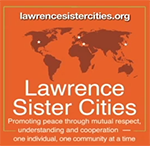 Lawrence's three Sister Cities – Eutin, Germany; Hiratsuka, Japan and Iniades, Greece – are our local cultural connection to the world.
Watch how the Sister Cities unite individuals and communities »
Sister Cities Lawrence is an independent non-profit board that coordinates all Sister City activities and programs. The Mayor or his or her designee serves as a member of the board.
Lawrence has three Sister Cities: Eutin, Germany, Hiratsuka, Japan, and Iniades, Greece.
Sister Cities Lawrence also works with the "Friend" groups (Friends of Eutin, Friends of Hiratsuka, and Friends of Iniades) who are more directly involved in day to day operating of youth exchanges, delegation visits, and other cultural and educational programs.
What are Sister Cities?
Sister city, county, and state affiliations between the United States and similar jurisdictions around the world began shortly after World War II.
In part, they developed as a national initiative following a conference convened by President Eisenhower's in 1956 to combat East-West tensions and promote better understanding between nations. A result of the conference was the creation of his People to People organization, and within it a town-to-town affiliation program modeled after a then-existing program of the National League of Cities.
Eventually the sister city program grew and broke away from People to People to became its own organization known as Sister Cities International. The network of this organization includes more than 2,300 communities in 135 countries.
Sister cities relationships promote a wide range of cultural, educational, municipal, business and professional interests. The nature of these programs varies widely from city to city. These relationships are based upon a formal agreement of general purpose and support made between each of the elected leaders of the two cities.
The goal of Sister Cities International is to "Promote peace through mutual respect, understanding and cooperation — one individual, one community at a time."