200 Indiana St.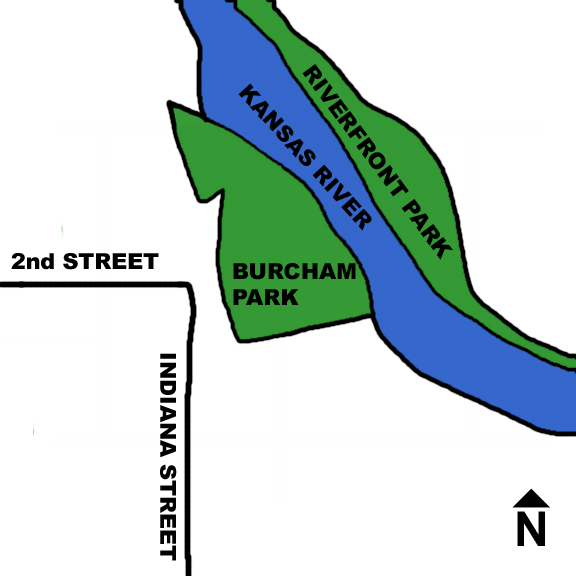 HISTORY
Development of this park began in 1976 after a financial gift, estimated at $41,000 in stock from Mr. and Mrs. Riley Burcham.
Riley and Alberta Burcham were residents in Lawrence since 1943, moving from Baxter Springs. Riley Burcham accepted a position with Lawrence National Bank and Trust Co. He retired as president of Lawrence National in 1968.
Burcham was involved in the Chamber of Commerce, was a Rotary Club member, Boy Scouts of America, the Kaw Valley Heart Association, Kansas Council on Aging, a trustee for Lawrence Memorial Hospital Board and a member of University of Kansas Endowment.
In providing their gift the Burcham's noted it was "in appreciation of the many pleasant years we have had in this community and the anticipation of many more pleasant years."
DESCRIPTION OF PARK
Burcham Park, which can be entered from 2nd and Indiana Streets, provides a clearing for an excellent view of the Kansas River. It also provides a 1/2-mile natural trail south to Constant Park and preservation of one of the finest cottonwood forests in Kansas.
In 1988, Elden Tefft's limestone sculpture "Keepers of the Universe" was added to the park.
The amenities of the park include:
Playground Equipment
Trail
Open Space
Restroom Facilities
SHELTERS
There is 1 shelter located in Burcham Park.
The amenities of the shelter include:
Water
Electricity
Table and Benches
---
If you are looking to reserve an outdoor shelters and/or indoor facility, reservations are taken at any of the community recreation centers including the Community Building, 115 West 11th St.; East Lawrence Recreation Center, 1245 East 15th St.; Holcom Park Recreation Center, 2700 West 27th St.; Lawrence Indoor Aquatic Center, 4706 Overland Drive, Sports Pavilion Lawrence, 100 Rock Chalk Lane and the Parks and Recreation Administrative Office in South Park, 1141 Massachusetts St.
See our shelter rentals page for more information on renting these facilities or call (785) 832-7920.