1316 E. 902 Rd.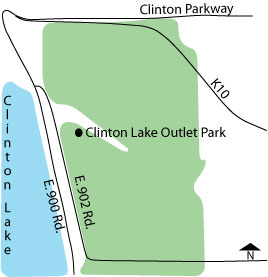 HISTORY
In 1995, the Lawrence City Commission approved leasing approximately 1500 acres from the United States Army Corps of Engineers at Clinton Lake for long-term recreational needs of the Lawrence community. Clinton Lake Park is located in this leased area.
DESCRIPTION OF PARK
The Clinton Lake Outlet Park area offers several opportunities for recreational activities. It's home to the Youth Sports Complex (YSC), Clinton Lake Softball Complex and Eagle Bend Golf Course and Learning Center.
The amenities of the park include:
Playground Equipment
Horseshoe Pit
Open Space
SHELTERS
There are two shelters in Clinton Lake Park with a capacity of 40-50 individuals.
The amenities of the shelters include:
Picnic Tables
Barbecue Grills
Water Fountains
Restrooms
---

If you are looking to reserve an outdoor shelters and/or indoor facility, reservations are taken at any of the community recreation centers including the Community Building, 115 West 11th St.; East Lawrence Recreation Center, 1245 East 15th St.; Holcom Park Recreation Center, 2700 West 27th St.; Lawrence Indoor Aquatic Center, 4706 Overland Drive, Sports Pavilion Lawrence, 100 Rock Chalk Lane and the Parks and Recreation Administrative Office in South Park, 1141 Massachusetts St.
See our shelter rentals page for more information on renting these facilities or call (785) 832-7920.