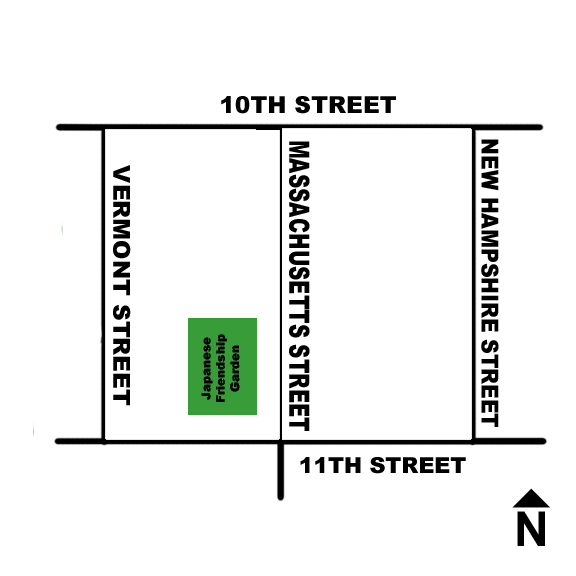 1045 Massachusetts Street
HISTORY
The Japanese Friendship Garden was built to honor the 10 year anniversary of Lawrence's relationship with its sister city, Hiratsuka, Japan. In 1995, the City of Hiratsuka, presented a gift of $5,000 to the City of Lawrence in recognition of their five year anniversary as being sister cities. The City of Lawrence matched the funding amount, and Faye Watson and many others volunteered their time to help create the friendship garden. Over $15,000 of additional funds were raised by volunteers who organized a fund raiser called the "Sister City Garden Gala."
The City of Hiratsuka sent representatives to Lawrence to help design, plan and work on the project. A local committee of the Sister Cities Commission worked with Parks and Recreation Department staff to develop the garden. The City of Hiratsuka shipped two major pieces from Japan, a lantern and a 15′ stone tower to be displayed in the garden.
Approximately 50 delegates from Hiratsuka, including Mayor Itsuo Yoshino and nine other city officials, traveled to Lawrence to attend the dedication ceremony, which was held on October 26, 2000.
The Japanese Friendship Garden represents the cultural ties with Hiratsuka and Lawrence. It is located in Downtown Lawrence, on the north side of Watkins Community Museum at 1045 Massachusetts Street.
Sister Cities Lawrence web page link
DESCRIPTION OF PARK
The Japanese Friendship Garden, approximately 90 feet across and 92 feet deep, contains a Wisteria covered arbor walkway, an arbor house, large rocks, water and imaginative lighting. Plantings included Japanese maples, yoshino cherry trees, yews, bamboo, juniper, and mugho pines as well as azaleas, spirea, viburnum, Siberian iris, and peonies. The Japanese Friendship Garden provides Lawrence citizens a quiet oasis in the middle of downtown.
SHELTERS
There are no shelters located in the Japanese Friendship Garden.
Reservations for outdoor shelters and indoor facilities are taken at any of the
community recreation centers including the Community Building, 115 West 11th St.;
East Lawrence Recreation Center, 1245 East 15th St.; Holcom Park Recreation Center,
2700 West 27th St.; Lawrence Indoor Aquatic Center,
4706 Overland Drive and South Park Recreation Center, 1141 Massachusetts St.
See our shelter rentals page
for more information on renting these facilities or call (785) 832-7920.