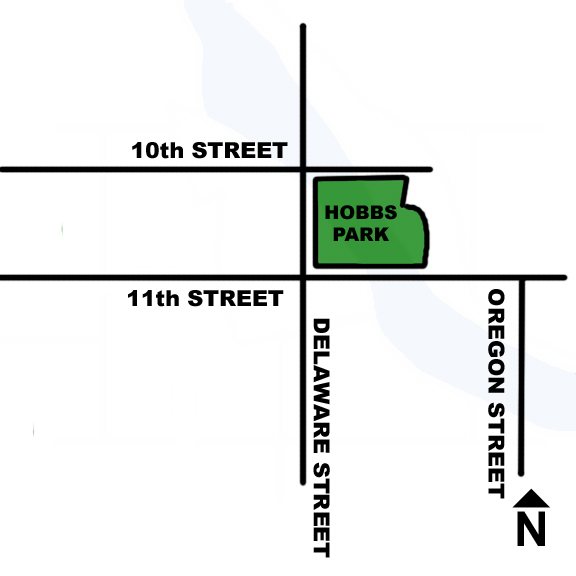 702 East 11th Street
HISTORY
The late Myra B. Hobbs, a resident of Lawrence, left in her will approximately $70,000 to the City of Lawrence. The money was to be used specifically to purchase land for the purpose of creating a city park.
In her will, Mrs. Hobbs directed the City of Lawrence to purchase land existing "east of Massachusetts Street at a location between 6th Street and 15th Street." She also expressed the park should be named to honor her late husband, Earl Hobbs.
Hobbs Park lies where a City garage (a Quonset hut) once stood at 10th and Delaware Sts. The Quonset hut was converted into a neighborhood recreation center; until it was torn down to make park renovations from the bequest of Myra Hobbs.
The hut served as a neighborhood center until East Lawrence Recreation Center in Edgewood Park was constructed in the mid-70s.
Also included in the park is Municipal Stadium.
DESCRIPTION OF PARK
Hobbs Park is home to a softball field, also known as Municipal Stadium. In addition, a playground area is available for children, along with a picnic shelter and basketball court.
The Murphy-Bromelsick house, also known as the John Speer Farmstead Site, is located in Hobbs Park.
The amenities of the park include:
Baseball/Softball Field
Basketball Court
Playground Equipment
SHELTERS
There is one shelter located in Hobbs Park.
The amenities of the shelter include:
Electricity
Barbeque Grill
Picnic Tables (capacity: 40-50 people)
Drinking Fountain
---
If you are looking to reserve an outdoor shelters and/or indoor facility, reservations are taken at any of the community recreation centers including the Community Building, 115 West 11th St.; East Lawrence Recreation Center, 1245 East 15th St.; Holcom Park Recreation Center, 2700 West 27th St.; Lawrence Indoor Aquatic Center, 4706 Overland Drive; or Sports Pavilion Lawrence, 100 Rock Chalk Lane. For questions or more information on Special Use Permits, please call the Administrative Office at (785) 832-3450 or email parksrec@lawrenceks.org. See our shelter rentals page for more information on renting these facilities or call (785) 832-7920.