2850 Wildflower Dr.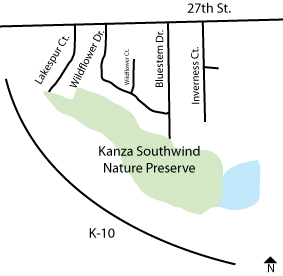 HISTORY
Donated in 1997 by John McGrew and the Wakarusa Land LTD Co., the KANZA Southwind Nature Preserve serves as a natural buffer for the neighboring residential community and the South Lawrence Trafficway.
It was named through a contest held by the Sunflower Elementary Student Council, which is located in the surrounding neighborhood. The selected name, KANZA, historically signifies the KANZA Native Americans who once occupied the nature preserve area. Southwind was included in the name to represent the directional winds that blow in Lawrence. Also, the KANZA Native Americans were known as "the People of the Southwind."
DESCRIPTION OF NATURE PRESERVE
The 18-acre nature preserve is home to a pond and numerous native grasses, which were designed into the site before it was donated to the City of Lawrence.
The pond is stocked with fish and has a goose nesting island in the center. The prairie grass is burned each spring to help reduce weeds and encourage natural prairie growth in the park.
The Lawrence Parks and Recreation Department regularly mows the trails, which enables public access through the area.
The KANZA Southwind Nature Preserve is a valuable asset to the Lawrence community. The surrounding neighborhood, Sunflower Elementary and Southwest Junior High schools use the area as an outdoor education and nature area. Students use the preserve for observing plants, insects and birds for science projects and writing assignments.
The amenities of the nature preserve include:
SHELTERS
There are no shelters located in the KANZA Southwind Nature Preserve.
Reservations for outdoor shelters and indoor facilities are taken at any of the community recreation centers including the Community Building, 115 West 11th St.; East Lawrence Recreation Center, 1245 East 15th St.; Holcom Park Recreation Center, 2700 West 27th St.; Lawrence Indoor Aquatic Center, 4706 Overland Drive and South Park Recreation Center, 1141 Massachusetts St.
See our shelter rentals page for more information on renting these facilities or call (785) 832-7920.