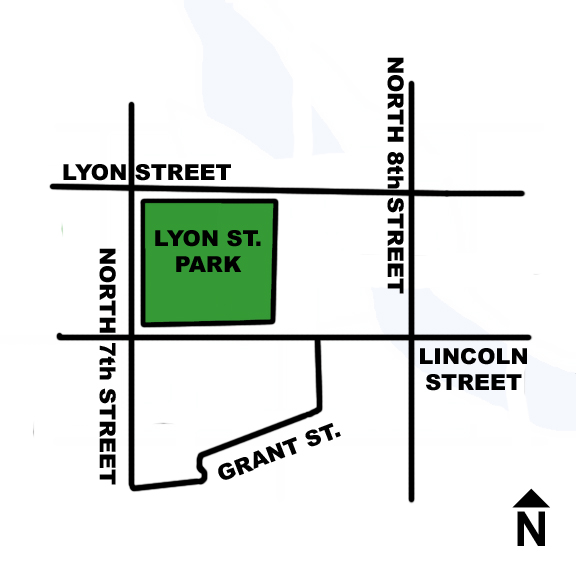 700 North Lyon Street
HISTORY
One of the first community parks in North Lawrence, the Parks and Recreation Department purchased the five acres of Lyons Park $4,500 in 1962. The park was expanded in 1977 with the addition of five more acres that were purchased from Mr. Lawrence Allison for $27,500.
The North Lawrence Neighborhood Association contributed $5,000 towards the land. The neighborhood community members also helped plan and develop the park by discussing their recreational needs at several public meetings hosted by Parks and Recreation.
To help support the park's construction, the City issued park bonds, which paid for half of the construction cost on the expansion of the park. The City applied for and received a Land and Water Conservation Fund grant, administered by the Kansas Park and Resource Authority (now the Kansas Department of Wildlife and Parks.)
The 50-50 matching grant assisted the city with the park development by contributing approximately $101,346 to install an irrigation system and two lighted ball diamonds, restrooms, play equipment, parking, lighted tennis and basketball courts, walkways and landscaping.
DESCRIPTION OF PARK
The 10 acres of park land is at the center of activity in the North Lawrence neighborhood.
Easily accessible to community members, Lyon Street Park provides a variety of activities for everyone to enjoy. The landscape and walkways allow Lawrence citizens and visitors the opportunity to take a leisurely stroll, hold a picnic or enjoy watching their children in the play area.
There are several venues to choose from for those who enjoy athletics. Lyons Park hosts two softball/baseball fields, tennis courts and a basketball court. All of these playing areas are lighted, allowing for night activities.
The amenities of the park include:
Playground equipment
Tennis court
Basketball court
Softball fields (lighted)
SHELTERS
There are one shelter located in Lyon Street Park. It accommodates 60 to 65 individuals.
Its amenities include:
Lights
Electricity
Drinking fountain
Restrooms
Picnic tables
Barbecue grill
If you are looking to reserve an outdoor shelters and/or indoor facility, reservations are taken at any of the community recreation centers including the Community Building, 115 West 11th St.; East Lawrence Recreation Center, 1245 East 15th St.; Holcom Park Recreation Center, 2700 West 27th St.; Lawrence Indoor Aquatic Center, 4706 Overland Drive; or Sports Pavilion Lawrence, 100 Rock Chalk Lane. For questions or more information on Special Use Permits, please call the Administrative Office at (785) 832-3450 or email parksrec@lawrenceks.org. See our shelter rentals page for more information on renting these facilities or call (785) 832-7920.