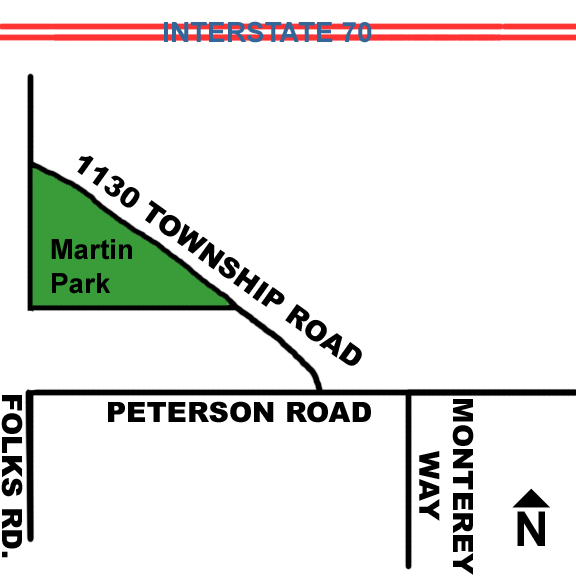 Peterson Road and East 1130 Township Rd
HISTORY
The 19-acres of untouched parkland was donated by Mr. And Mrs. William H. Martin to the City of Lawrence on August 6, 1963.
The Martins wanted Lawrence citizens to enjoy the peaceful scenery and the natural beauty that has been a part of the Martin family since the territorial days of Kansas.
The donation of the 19-acres of land located on Peterson Road and East 1130 Township Rd came with an understanding that the land can only be used as a public park. The Martins had foresight with their desires to preserve the natural habitat for others to enjoy.
DESCRIPTION OF PARK
The site of a wilderness park promotes the health of the Baldwin Creek watershed by restricting development on much of the property except for unpaved trails, picnic areas and parking lot. The unique trail park holds the promise of a wonderful place to walk in nature, away from city noises and distractions.
Lawrence citizens are able to enjoy the whispers of the wind rustling through a wide variety of trees, which include oak, hickory, red bud and others. The songs of nature from an array of animals, birds and other wildlife helps to invigorate citizens. An abundant species of native grasses and plants grow in the woods and savannah creating a lush green garden in a fast developing city.
The amenities of the park include:
Barbecue Grill
Nature Trails
SHELTERS
There are no shelters located in Martin Park.
If you are looking to reserve an outdoor shelters and/or indoor facility, reservations are taken at any of the community recreation centers including the Community Building, 115 West 11th St.; East Lawrence Recreation Center, 1245 East 15th St.; Holcom Park Recreation Center, 2700 West 27th St.; Lawrence Indoor Aquatic Center, 4706 Overland Drive; or Sports Pavilion Lawrence, 100 Rock Chalk Lane. For questions or more information on Special Use Permits, please call the Administrative Office at (785) 832-3450 or email parksrec@lawrenceks.org. See our shelter rentals page for more information on renting these facilities or call (785) 832-7920.