2811 Kensington Road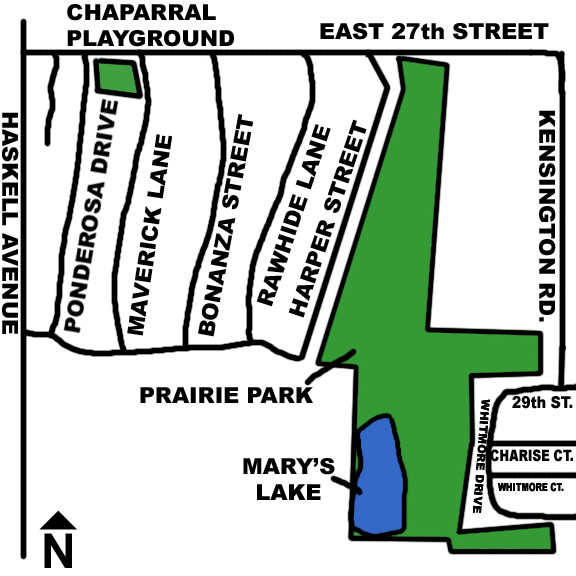 HISTORY
The City developed Prairie Park through its park bond funds between 1985 and 1990.
DESCRIPTION OF PARK
This 72-acre nature preserve is one of Lawrence's most scenic destinations. Native grasses and wildflowers are present throughout the park, making the area ideal for the nature-lover.
Mary's Lake, a seven-acre lake complete with a boardwalk and fishing docks, sits on the south side of the park. A study pond is located on the east side of the lake near Prairie Park Elementary School.
Prairie Park also has a one-mile trail, dedicated in 2001, with self-guided, interpretive education stations. The project was partially funded by a Recreational Trails Fund grant administered by the Kansas Department of Wildlife and Parks.
The hard-surface, recreational trail winds around the perimeter of the 72-acre park from the neighborhood park south of Prairie Park Elementary School, across Mary's Lake dam and north to connect to the Prairie Park Nature Center.
The amenities of the park include:
Basketball court
Drinking fountain
Playground equipment
Restroom facilities
Trails
Tennis courts
Access to Mary's Lake
SHELTERS
There is one shelter located in Prairie Park. Its capacity is 60-70 individuals.
Its amenities include:
Barbecue grill
Electricity
Lights
Tables and benches
Water
---
If you are looking to reserve an outdoor shelters and/or indoor facility, reservations are taken at any of the community recreation centers including the Community Building, 115 West 11th St.; East Lawrence Recreation Center, 1245 East 15th St.; Holcom Park Recreation Center, 2700 West 27th St.; Lawrence Indoor Aquatic Center, 4706 Overland Drive, Sports Pavilion Lawrence, 100 Rock Chalk Lane and the Parks and Recreation Administrative Office in South Park, 1141 Massachusetts St.
See our shelter rentals page for more information on renting these facilities or call (785) 832-7920.