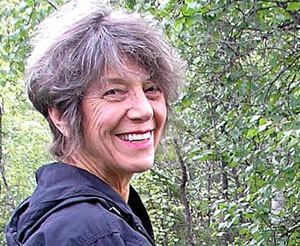 Sandra Jane Shaw was born June 22, 1941 in Grantham, New Hampshire, the daughter of Alfred J. Cote and Lena F. Reney. The Cote family produced much of their food, even tapping maple trees to make syrup in the sugar house. Fred and Lena worked in the lumber business they built from the ground up. When not in school, Sandi spent much of her childhood appreciating nature. She would later attribute her passion for promoting child and family health to her parents, developing with the Bert Nash Center Board of Directors the Alfred and Lena Cote Memorial Fund for Healthy Children and Families, which significantly funded the Center's purchase of this land for a community health park.
Sandi arrived at KU in 1962, earning a doctorate in clinical psychology in 1970, when very few women did. The following year she went to work as Director of Child and Family Services at the Bert Nash Center. In 1979, she became the Center's Executive Director, then CEO, and worked diligently for the next 22 years to deliver state-of-the-art, comprehensive mental health services to the people of Douglas County. As mental health services across the nation became more complex, Sandi rose to the challenge by attending the Harvard Kennedy School executive leadership program as well as earning a master's degree in business administration while continuing to run the center fulltime. Sandi's accomplishments included expanding the BNC from 9 to nearly 200 employees, bringing critical behavioral health services into Lawrence schools, and playing a key role in bringing the dream of a community health facility to fruition in 1999. Her strong belief that mental health is fundamental to health in general drives a primary initiative of the Bert Nash Center today: the integration of physical health and behavioral health. She was ahead of her time!
In 2001, Sandi retired to be with family, volunteer, and build a thriving private therapy practice where she specialized in helping children and families move through difficult life transitions with intentionality and dignity. She worked tirelessly for community organizations that supported children and the environment, including Van Go Mobile Arts, the Kansas Land Trust and Eco2. Sandi passed away in 2010. Her legacy lives in the community, where she spent nearly a half century working to build healthy spaces inside and out for children and families of Douglas County.