located at 5101 Speicher Road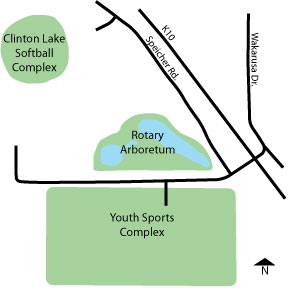 Clinton Lake Softball Complex is a four-diamond complex opened in 1997, located on approximately 70 acres. Each field is 300 ft. with 20 ft. wide warning tracks. Additional fencing was added to the backstops in 1999 to accommodate the play of youth baseball and fast pitch softball, as well as adult slow pitch.
In 2000, the complex hosted girls and women state tournaments and adult national qualifiers. 2001 featured the men's ASA State Tournament, the Boys NSA Baseball World Series, the KASA Championship Series and two legs of the Sunflower Softball Super Series. In 2003, the complex held the AFA 14 & under and 16 & under AFA National Softball Tournaments.
The complex features:
Electronic scoreboards
Covered playground
Fenced warm-up areas
Large covered dugouts
Concession stand with covered picnic areas
For information on reserving the complex or to host a tournament, please call (785) 832-7920.