Contact
To check the zoning of a property, contact Code Enforcement Staff at (785) 832-3345. You can reach us by FAX at (785) 832-3110.
Our Offices:
1 Riverfront Plaza
Suite 320
Lawrence, KS 66044
rentallicensing@lawrenceks.org
Overview
Effective January 1, 2022, all rental properties in Lawrence are required to maintain a valid rental license in compliance with City Ordinance 9876. City Ordinance 9876 repeals existing Chapter 6, Article 13 (Ordinance No. 9110) of the Code of the City of Lawrence, which became effective on October 2, 2018. Relevant code sections that were amended can be viewed in this summary document.
Lawrence In Focus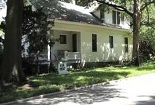 Watch the Lawrence In Focus about the Rental Inspection & Licensing Program.
Long-term Rental Licensing and Inspection Documents: