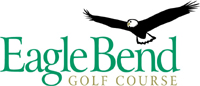 Eagle Bend is the first golf course owned and operated by the City of Lawrence Parks and Recreation Department.
Contact us:
1250 East 902 Road
Lawrence, KS 66047
eaglebend@lawrenceks.org
Phone: (785) 748-0600
Toll free: (877) 861-GOLF
The course was voted as one of the top three golf courses in Kansas by the Kansas City Star, and has been named as a "Places to Play" by Golf Digest.
The start of the course features holes heavily wooded and sit in the shadow of the Wakarusa River, while the last six holes on the course are open with no trees.
Eagle Bend is dedicated to continuing the preservation of the environment and habitat of wildlife. Much wildlife inhabits the course's surrounding areas, including the bald eagle, which played a major role in the naming of the course. During its construction, bald eagle sightings were plentiful and can still be seen in the fall and early spring.
Eagle Bend's amenities include 18 holes of championship golf, a full-service pro shop, snack bar, driving range, a short iron range, practice putting and chipping greens, club repair and custom club fitting and golf instruction by PGA professionals.
Eagle Bend Golf Course