1245 East 15th Street
(785) 832-7950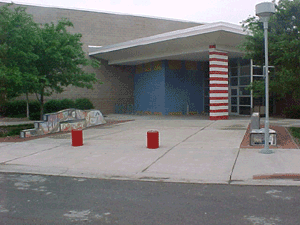 2023 Program Fees – Full List
Monthly Update
HOURS OF OPERATION
Office Hours:
9 a.m. – 6 p.m. Monday – Friday

10 a.m. – 2 p.m. Saturday
Class enrollments and facility reservations may be made during office hours only.
Facility Hours:
| | |
| --- | --- |
| Monday – Friday | 8 a.m. – 8 p.m. |
| Saturday | 9 a.m. – 6 p.m. |
| Sunday | 10 a.m. – 4 p.m. |

Public Showers:
Monday-Friday: 4:30-7:30 p.m.
Saturday: 9 a.m.-5:30 p.m.
Sunday: 10 a.m.-3:30 p.m.

Admission
Admission to all City of Lawrence recreation centers is free for Douglas County Residents. To validate your Lawrence/Douglas County residency, you need to show proof of residency within Lawrence/Douglas County upon your initial visit to any of the recreation centers (Sports Pavilion Lawrence®, Community Building, East Lawrence Recreation Center or Holcom Park Recreation Center). Access cards are only issued at recreation centers during the hours of operation. One of the following options will be acceptable for validating residency: Driver's License, State Issued ID, Current Home Owners Insurance Policy, Property Tax Statement, Vehicle Registration, Mortgage or lease document from Lawrence or Douglas County. Upon validation, you will receive an access card for access to use the facility. Once an access card has been obtained, admission is free.
Access Card:
Resident – Free
Non-Resident – $5.00
Replacement Fee – $5.00
Daily Rates:
Resident – Free
Non-Resident – $5.00
Annual Pass:
Resident – Free
Non-Resident – $60.00
HISTORY
East Lawrence Recreation Center was built in 1979 as a 5,200 square foot facility located in the heart of Lawrence's historic east side. This 18,500 square foot recreation center later underwent $2 million of renovations and reopened on March 15, 1997. The renovation project was funded in part of the priority set with Lawrence's 1994 one-cent sales tax.
During facility renovations, $47,500 was allocated for original, site-specific public art. The building hosts glass and ceramic mosaics on the low, outdoor walls in the entry plaza. The mosaics echo the building's bright colors and provide a welcoming atmosphere for the building's entry.
Once inside, a collection of sculptures line the ceiling of the commons area.
DESCRIPTION
The East Lawrence Recreation Center is a popular place among all members of the community, providing a comfortable and fun atmosphere to the public. Visitors can enjoy everything from a game of basketball to shooting pool at this recreation center.
The building hosts a gymnasium, fitness and weight room, game area, multi-purpose room that houses LPRD's gymnastics program and meeting room complete with kitchen. The facility is open daily to the public, free of cost, and individuals may rent facility space for private events.
This facility is totally accessible. Facility features include:
A Full-Size Gymnasium
Locker/Shower Facilities
The Tumble Zone, used for the Department's Gymnastics Program,
Featuring:

Tumble Track

Rope

Balance Beam

Cheese Wedge

Octagons

Preschool Mats

Game Area (billiards, foosball, ping pong)
Wellness/Weight Room with Cardio Equipment

Two Treadmills

Two Ellipticals

One Arm Bike

One Recumbent Bike

One Multi-Pulley Machine

Free Weights (2.5 lbs to 75 lbs.)

Meeting Room with Full-Size Kitchen