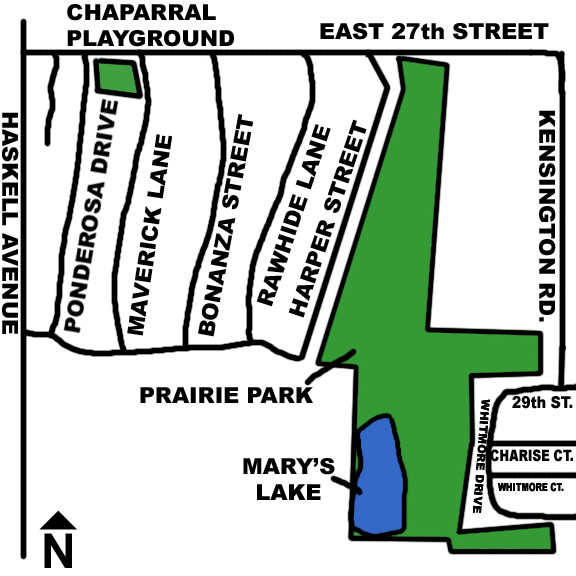 2811 Kensington Road
HISTORY
Mary's Lake was created in the 1950s, and Lawrence Parks and Recreation worked with the property owners in the 70s to use the lake and surrounding area for its Exceptional Summer Camps and coordinated programming with special education classes in the public schools in the Spring and Fall seasons.
In 1991, Parks and Recreation purchased Mary's Lake property and continued the development of the area. LPRD added the Prairie Park Nature Center in 1999 and natural trails from the center to the lake area and neighborhood park.
DESCRIPTION OF LAKE
Mary's Lake, a seven-acre lake complete with a boardwalk and fishing docks, sits on the south side of the park. A study pond is located on the east side of the lake near Prairie Park Elementary School.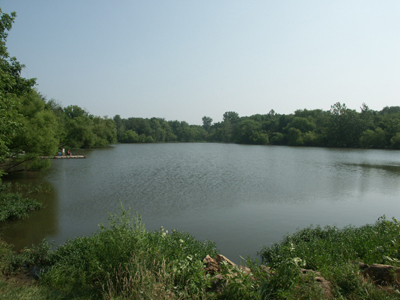 FISHING REGULATIONS AT MARY'S LAKE
Persons over 16 years must have a valid Kansas fishing license.
Channel Catfish limits are 2 per day.
Bass must be released if less than 16 inches long.
State daily creel limits apply.
There is NO swimming, boating or flotation devices in Mary's lake.
To assure everyone's enjoyment at Mary's Lake, please comply with the following:
Pick up all your trash and fishing line before leaving.
Collecting plants or animals other than fish on the nature preserve is not allowed.